I really wasn't go to post on this. Really.
I felt that enough people had already discussed this topic, but the more I keep looking at this picture, the more I feel compelled to drop my two cents into this charity dish.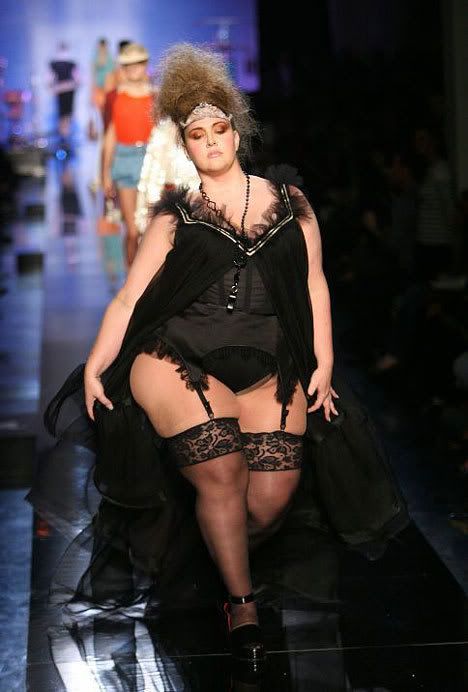 You see, my first reaction upon seeing this picture was "how wonderful". This was before I read the accompanying article. After having read said article I am inclined to say that I don't necessarily feel the same way anymore.
I feel that this beautiful and brave* model was used as a token. If Gaultier really wanted to make a positive statement in regards to the size zero commotion, I believe he should of used models of all sizes, not just one extreme to another. The effect is too in-your-face, besides, having one fat model out of at 50 skinny models is not going to have a positive effect for the fat model in a thin-is-beautiful society.
Here's a poorly drawn analogy: If all your life you have been a platinum blond and you suddenly dye your hair to raven black, many people would be shocked and appalled, even if the color looks great on you, because it is too drastic of a change too quickly in many peoples eyes. But, if you slowly started changing your hair color to a darker shade, first by going more towards a honey blond, then a sandy blond, to a light brown, and then to a mousy brown, a dark chocolate brown and finally black, then the shock would either be nonexistent or very minute because everyone was able to see the gradual change. The same applies to this whole modeling thing.
When comparing two extremes, people will always favor the more mainstream ideal, in this case the skinnier models. But, if a designer were to add a full spectrum of sizes on their runways, then that will help gradually ease society into the thought process that skinny doesn't necessarily correlate into beauty and that women (and men) of all sizes can be viewed and appreciated on runways and off.